Writing this blog has becoming very hard for me. Apart from the busy schedule, i also faced a writer's block.
I know that to achieve something, one must have a determination to accomplish it. Maybe it is something that i need to work on that more.
Today, i had a lot of activities happening in my life which i would like to share. I started the day by going to work early at 6.50 am. I'm bringing my wife along as she is having some appointments arranged in KLCC and Maju Junction area.
She normally drive to her appointments but i'm not allowed her to do so as KL currently hot with rumours going around about the 'Bersih' demonstration plan to be held in Dataran Merdeka. I just don't want her to be caught in bad situation if anything happend.
Personally, I think all this demonstration is unnecessary and troublesome. Why pick Dataran Merdeka. If you sincere with your cause, held other arrears that are less busy such as Putrajaya or something. Enough about politics. Its not my cup of tea anyway.
My wife and I had breakfast of Nasi Lemak in one of the best place in Kampung Baru which is Nasi Lemak Wanjor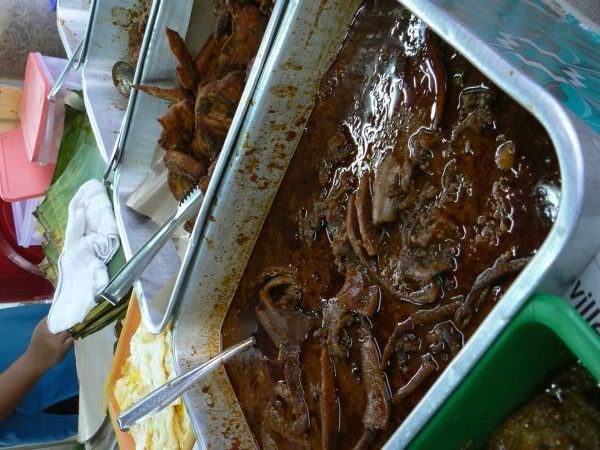 When we arrived, the owner just finish packing for an orders of more than 100 nasi lemak by a client there. Lucky for us, if not, we end up waiting so long for our order.
Work in the office as normal as it can be which is busy. I'm assisting my colleague to complete on 2 research papers which is about the property market in Malaysia and second about Malaysian trade with China. Cannot share about the finding here as it still under progress.
My wife called me at 10am saying that she just managed to close another deal at KLCC. Alhamdulilah.
Her second appointment also showed a positive feedback despite having to wait for the person that she set the appointment with for more than half and hours. She got really pissed off with the guy for making her to wait. What is the use for setting up appointment if you cannot agreed with the time set. She conveyed her dissatisfaction to the staff and was ready to walk out the office when the staff referred her to another person who was she later find out was the head of training of the company. What a blessing.
Anyway, that is part and parcel about business.
In the afternoon, my friend and I went for our Friday prayer at Masjid Negara. We anticipate for some incident to occurs at Masjid Negara in the heat of 'Bersih' demonstration planned for tomorrow, however, we are grateful that nothing happened. Things was normal there but the authorities (DBKL enforcer & Police) had started to close the road at Dataran Merdeka. Traffic started to become congested right after that. Lucky we travelled by motorbike.
Just for your info. The shortcut road in Dayabumi building is now under renovation. So you will not be able to make the shortcut from the road in Central Market to the railway station.
After my office hour ended at 4.45pm, I fetched my wife at Promet building at Jalan Sultan Ismail and took her for a dinner treat at Restoran Beriani Asif at Jalan Padang Walter Grenier which is near Jalan Imbi.
I have heard from all my friend that this restaurant serve the best Nasi Beriyani Lamb in this area. That was why i had to try it. I ordered a plain Nasi Beriyani while my wife ordered a plain roti Nan for dinner. We add a lamb shank for both of us to share.
RM18
RM2
RM5
The taste was really
marvellous!!
. I highly recommended you guys to visit the place and find the taste for yourself.
After dinner, we went to Pavillion for our movie treat. At first we wanted to see 'Battleship' as my friends all give 5 star rating for the movie. Unfortunately for us, when we wanted to buy the tickets, only front row seat are available. So we had to pick something else.
Some people don't mind sitting in a front row seat in cinema, but for a tall guy like myself... it really big deal. We would not be comfortable.
Then there was 'The Avengers' showing to but it was selling like a hot cake and moreover, the show time was a bit late. At last we end-up buying movie tickets of 'Lockout' starring Guy Pearce (ex-husband of Madonna) as the main actor.
At first, my wife and i were quite upset with our purchase. At that moment, we thought the right moved was to head home as our intention was not full filled but when the show started , we found out that there movie was quite fun to watch. We love the dialogue especially Guy Pearce dialogue.
The movie is not suitable for children as it are full with violence but its still up to the parent discretion.
Even though the movie is label as 18SG, we found out some parent still bring their children along.